On Saturdays we are meeting 15-20 children from the ages of 12-18. Children are coming to know the Lord through the teaching of the Bible. Some Saturdays the numbers fluctuate because these young people are having to make a living for themselves in order to survive. We are praying the children will have an intimate relationship with God and that they will grasp what having a real relationship with Jesus is all about. Our medical program is going well. The communities love when they get a visit from Haitian Ministries because as they say, "they know the medicine is good and will help them." Right now, 75% of our blood pressure patients have stable blood pressure. Baby Grace is doing well. She has moved to her new home and is receiving physical therapy 3-4 times a week. She is well taken care of and loves when the ladies sing and play with her – she loves music!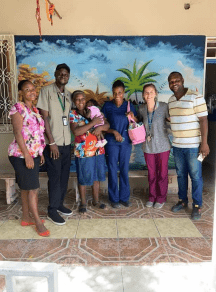 This was a beautiful moment when the foster grammy who had been tenderly caring for Baby Grace was helping transition her to her new home. Baby Grace is at the Benediction Home Monday-Thursday, and Friday-Sunday she goes home and stays with her foster family. Please continue to pray that a team of doctors can make it to Haiti and that baby Grace can begin the series of surgeries that she is in need of! Thank you for your continued prayers and support for this sweet precious gift from God.
Below: The church in Coupe David in its final construction stages. Each brick you see was hand carried up a mountain that has no access by road. Once while walking this hike with Pastor Arly, we asked him why the top of the mountain and he replied that he heard God tell him that he needed to go up to where the people were so they could hear the gospel message. He was faithful in hearing and obeying the Lord's call on his life and now the Lord has given him this church building to shepherd his people in.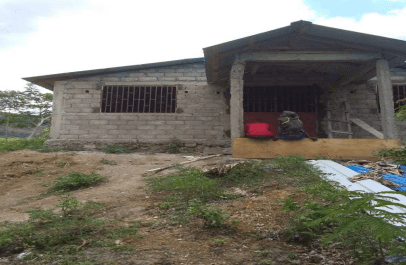 From my heart…
Ecclesiastes 4:9&10 GNT
"Two are better than one, because together they can work more effectively. If one of them falls down, the other can help him up. But if someone is alone and falls, it's just too bad, because there is no one to help him."
I have always loved this scripture. Many times and on trips I have shared it with our team in Haiti. Recently, it has meant even more as we have really felt "lifted up" by so many around us. First our family and our friends but also by our faithful partners and supporters. Thank you for your continued prayers for my health. While I am not used to being down and out so to speak, I want all our supporters to know that the ministry has not skipped a beat. God has given us an amazing team in Haiti. They work well together and encourage one another in their faith and accountability. Our nurse, Ertha, sets the schedule for the week ahead and our team director, John, and Pastor Jovite help and support in any way they can. We get weekly reports regarding the work that is being done in Haiti. We have just witnessed the fastest church build that we have ever seen since we have been helping pastors build churches. We want to give God all the glory for His amazing provision of funds to be able to purchase the supplies to build the church on top of the mountain in Coupe David! The people are thrilled and preparing for a dedication service. We have seen God's provision for the ministry time and time again, and in recent months He has provided extra funds so we can provide more peanut butter sandwiches for the children in our peanut butter program. He has continued to provide the supplies that we need for our sewing program. Madam Wilda is doing a great job with our sewing program. It has provided a much-needed outlet for the young people, and they are learning a trade that we are hopeful they will be able to use to help provide for them in the future! Madam Wilda moved the program to a two-year program, which would qualify them for the government exam. Some students are sewing their own school uniforms right now!
As I listened to a wonderful sermon by Pastor Rick Warren a few weeks ago (it also was taken from Ecclesiastes 4:9-12), he said, "Relationships are a raincoat during the storms of life. When friends or family members are going through a storm, you help each other, people committed to one another to protect each other in the storm." I love the metaphor that relationships are like raincoats. Luke and I feel so blessed to have many friends that have rallied behind us. The commitment so many have made to pray for us daily and weekly has been a huge support to us. The love that has been shown to us is incredible. Thank you sounds empty compared to how full you have all made us feel. We are absolutely blessed and have felt protected in every step we take! I'm thankful for my relationship with Jesus and His promises. He comforts me, loves me and He is able. He understands my tears, fears and doubt. He is always by my side, and He will absolutely show me what to do next.
In Christ,
Pam and Luke Brochu
Prayer List –
Safety and good health for the team
Stability in Haiti
Pam's Healing
Team trip (Oct/Nov)
"Creating lasting change by helping Haitians help Haitians for God's glory"