Haitian Ministries * May 2023 * Newsletter
I would like to start off this newsletter with a sincere Thank You! Thank you for your continued prayers for our friend and mentor, Pam Brochu. Thank you for continuing to support Haitian Ministries through your prayers and financial support. One of the hardest pieces of saying yes to God's call was knowing that Haitians were dependent on our mission to provide for their needs. God did a work in my heart and reminded me ever so gently that it's nothing I can say or do but it's the prompting of His spirit that allows people to give as well as remind people to pray. I am merely a vessel to be used by Him and He will continue to provide and meet the needs of Haitian Ministries.
I recently had the privilege of traveling to Haiti during the month of April. Hopefully, you were able to see my updates on our ministry Facebook page. It had been awhile since Pam or I had been able to travel to Haiti (March 2022, to be exact). The team was ready and excited to see someone from this side of the world!
It is completely a privilege to be able to represent Haitian Ministries, but even more importantly to share the love of God to our team and Haitian communities. Every day when we arrived in a new village, our team was greeted with warm smiles and welcoming community members. There are some things a photo just can't capture, but when I see the embraces and smiles it warms my heart to know that the team of Haitians God has assembled to be "boots on the ground" is doing an amazing job representing the ministry and, more importantly, God. While Nurse Ertha assesses the patients, John and Jovite assist with conversation (relationship building) and pharmacy. Our team offers medical support and also intervenes when there may be a critical medical situation. While I was there we had a man come who had a pretty severe hernia; we will be able to get him to a doctor for surgery so he can continue to work (he is a heavy laborer). We have seen God time and time again bring specific situations to our attention and then provide for and meet the needs.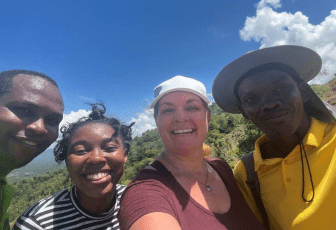 I wanted you to have a chance to meet our team. You know me (Ali), but I thought how cool it would be to do a little bio on each of our team members.
John, who is our discipleship and education liaison, as well as helping our nurse, Ertha, was saved in 2004 at the age of 25. He married Landie in 2019, and they have a son, John Peter, who is 3, and a daughter, Nay, who is in grade 3. They are in the middle of building their family home in Fort Liberty. John has a beautiful testimony of a mom who prayed and prayed for his salvation and God heard her prayers. He was saved when there was no place to look but up and he continues to thank God for His grace in his life. He loves sports (especially American football!). He also craves Chinese food from time to time and a good pizza, but not so much rice!
Our nurse, Ertha, is our newlywed! She was just married in December 2022 to her sweetheart, Sem. They currently make their home in the city of Cap Haitian. She loves to exercise in her free time and really enjoys reading and learning new things in her field. Ertha had been an orphan since the age of 3, but when she was 16 years old she heard a Billy Graham sermon and accepted Christ as her Savior. I asked Ertha what made her want to be a nurse, and she shared that she was orphaned at 3 years old because her mom was mentally disabled and unable to care for her and her brother. Seeing her mom's need for medical attention but not being able to receive it spearheaded Ertha's decision to become a nurse. Her mom passed away when Ertha was in her third year of nursing school, but she had an opportunity to see how close her daughter was to fulfilling her dream.
Pastor Jovite is married to Mene. They have two boys: Sam, who is 13, and Don, who is 9. Mene is a certified lab tech, but because of Haiti's terrible economic situation there are no employment options for her. She teaches preschool 3-4 days a week and also teaches Sunday school. Along with all those responsibilities, being a mom/wife in Haiti takes household responsibilities to a whole new level! The moms and wives work so hard at cooking and cleaning, and the laundry is done by hand. Many meals are still cooked over an open flame. Jovite is a Pastor and performs pastoral duties throughout the week. He is also our construction project manager. Another passion of his is growing Moringa, an amazing healthy plant with tons of nutrients that can grow in harsh conditions. So Jovite monitors the gardens that Haitian Ministries began with him and has a couple of helpers. They harvest the leaves, dry them, grind them up into a powder, and then bottle the ground Moringa as a nutritional supplement to distribute as part of Haitian Ministries' medical program. It is an incredible source of nourishment for nursing moms, people with blood pressure issues, aid for cases of malnutrition and conditions of anemia, as well as many other health benefits.
In James 1:27 from The Living Bible translation it says, "The Christian who is pure and without fault, from God the Father's point of view, is the one who takes care of orphans and widows, and who remains true to the Lord – not soiled and dirtied by his contacts with the world." I don't count myself as a theologian or even begin to think I understand the majority of the Bible; but I do know that God has a very special and tender place in His heart for the widows and orphans of this world. Whether they are in our local church or in Haiti or another place of the world, He sees them and He loves them and He wants us as His children to help in assisting with their needs.
This brings me to Madame Claudette. She was widowed 5 years ago and is raising six children on her own. We have been praying that God would reveal to our team and to us who He would have Haitian Ministries help next. As I walked down the path to her home, I was greeted by a scrawny chicken or two. As we came into the door yard the older children were keeping an eye on the younger children and we asked if their mom was home. She wasn't but it didn't take long for one to scurry on his way, and before I knew it, Madame came back with her bowl of laundry on her head, stopping everything she was doing to come and say hello. We talked for awhile about how life is hard in Haiti and significantly harder when you don't have a partner to help you. Yet she could still smile, she could still find joy, and she was so sweet and receptive when we prayed for her and her family and their home. My belief is that this mom has been clinging on to hope ever since her husband passed, praying God to please show Himself to her. Then God brought Haitian Ministries to walk down her path. We believe God wants to use Haitian Ministries to demonstrate His love to this family through the construction of a new home, and I believe He will use this project so her children will come to know the God she trusts and serves through it. If you or your church would like to give towards this home, please donate through our website at haitianministries.us or by sending a check to Haitian Ministries, 363 South Main St, Winterport, ME 04496